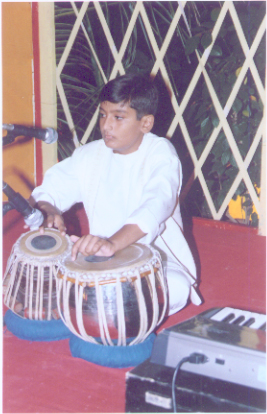 Eleven years old Darshan Vijaykar Mankad, seventh standard student of Virani School, Rajkot, has been practicing "TABLA" from the age of Five.

Darshan, blessed Prof. Sudhirkumar Saxena(Vadodara) and Dr. (Mrs.) Aban Mistry, (Mumbai) is under the training of Prof. Gaurang Bhavsar of faculty of Performing Arts in "AJARADA GHARANA".

He topped at the 34th All India Classical Music Competition in Tabla, organized by Swar Sadhna Samiti, Mumbai. He was also selected during 1997 & 1998 among "Top Twenty" children in Musical Field and honored by PUJIT RUPANI MEMORIAL TRUST, RAJKOT. He has performed his solo in various programs and accompanied on Tabla in Classical, Semi-classical and Light Music and Dance.

Recently, he has accompanied Shri Gajendra Baxi (Indore Gharana) deciple of Ustad Amirkhansaheb at the "Gharana Workshop" organized by Gujarat State Sangeet Natak Academy at Rajkot.