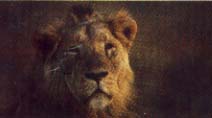 Sasan Gir Forest and Sanctuary
Sasan Gir Sanctuary provides refuge to that rare species the Asiatic Lion.The Sanctuary covers an area of 500 square miles of open scrubland where the lions roam freely. They can be seen on guided jeep tours through the jungles.It is situated 54 kms. From Junagadh via Keshod.
It is a well known hot spring of Gir Forest 165 kms. From Junagadh .
How to get there :

Air : Keshod Airport (37 kms)

Rail : Viramgam veraval section of western Railway
It is known for his myth and legend ,it lies at the foot of Girnar Hill.The Girnar Hills stands from 2500 years B.C. having a legend of it's town. The antiquities of Junagadh go back to the times of the Emperor Ashok (250 B.C.) whose fourteen Rock Edicts can be seen cut into a great rock outside the city.
PLACES OF TOURIST :
Uparkot Fort : Uparkot fort is famous for its bygone times for its virtual inaccessibility. The Uparkot or Upper fort is girdle by a wall that is, in some places, over 20m. high. There is a mosque still stand in a state of preservation. A Nilam top was acquired by the Nawab of Junagadh from a Turkish Sultan. There are also two step-wells, Jami Masjid and Buddhist caves in the fort premises.
Ashoka's Rock Edicts : Rock edicts of the Emperor Ashoka can be seen on the way of the Girnar. The inscriptions carry Brahmi scripts in Pali language and dates back to 250 B.C. On the same rock are inscriptions in Sanskrit.
Damodar Kund : It is an ancient sacred tank marks the ascent to the Girnar temples.
Chorwad beach : This beach is 66 kms. From Junagadh and 23 kms. From the fishing center of Veraval,Chorwad is a beautiful resort on the coast of Gujarat. It connects with to Junagadh, Girnar , the Gir Forest Sanctuary and famous temple of Somnath.
Maqbara : The mausoleum of the Nawaabs, the traditional rulers of Junagadh.
The Temple of Girnar : Girnar is one of two hills most sacred to the Jain Community of India. It rises to a height of more than 600 meters, Its five peak crowned by 16 carved and sculptured marble shrines that adorn this famous hilltop temple city.
How to get there :

Air :The nearest airport is at Keshod, 40 kms. which is connected with Bombay.

Rail : Chorwad Road railway station on the Ahmedabad Veraval line.

Road : State transport buses and private buses connects with centers of Gujarat. It is situated 393 kms. From Ahmedabad.
---
| Home Page | About Rajkot | Art | Business | Culture | Services | Tourism | Interesting Sites |

Developed & Hosted by RAJKOT.COM
Send us mail with suggestions & questions about the web site