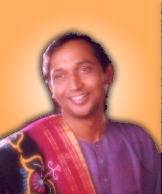 When he sings, he mesmerizes the audience with the depth of his voice, radiating out of his heart. A magnificent touch of sweetness and devotion, along with a touch of music enjoyed by everyone. He is mastero in Jain Bhavna & Swaminarayan Kirtan.


The Man.....

He has an advantage of being born and brought up in a beautiful village in the famous Gir Forest of Amreli district in Gujarat ( India). Pipalva, a village on the bank of river Dhatervadi, where he was born in a farmer family in 1956 provided him initial rhythm. He took his primary education in a village school, and had the chance to enjoy his free time in the woodlands on the hills of the river bank.

Today Vinod Patel is a name regarding with esteem in the field of Bhajans, Sugam Sangeet and folk songs. Presently he lives happy married life with his wife Nita and two children.

His Studies.....

After having absorbed the throbbing life of century side he enjoyed the behaf of the famous religious and cultural institute of Shri Swaminarayan Gurukul in Rajkot. A sacred religious atmosphere, with able guidance of the founder of Gurukul, late Shree Shastri Dharamjivandasji Swami, equipped him with complete religious knowledge and faith. During his school and university education he had an advantages of being in constant touch and had guidance & blessings of the saints of Gurukul.

He finished his post graduate university education with M.A. in literature. During his school and university years, his first love was "Sangeet". He started his Sangeet Sandhna with Bhajans in daily prayers in the Gurukul. His interest in singing forced him to use his free time in music training. He learned the early lessons of music from a famous and devoted classical singer Kalaguru Shree Babubhai Andheria. With hard work and Sadhna he passed Sangeet Visharad and Shiksha-Visarad, both with first class first distinction.

His Ventures.....

Gurukul, the alma matter of Shree Vinod Patel has presented his 36 cassettes of Bhakti Sangeet. These cassette were liked and welcomed by thousands of devotees all over the world. Added to this were the frequent programs of All India Radio who attracted Light music lovers of Gujarat and other states.
His singing have invited him to perform and honored his singing talent and inviting him to perform. Vinod Patel has given around 584 programs abroad in America, Europe, Canada, Australia, New Zealand, Singapore, Dubai, Fiji, East Africa & South Africa, Dar-esslam, Zambia, Zimbabwe, Botswana etc.