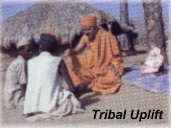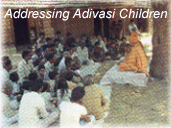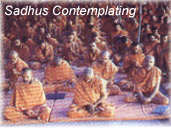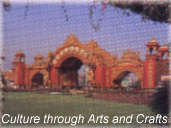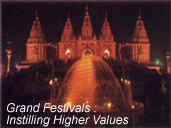 From saintly sadhus to criminals behind bars, from the highest class of society to its lowest sections, the message of the Sanstha has helped to change countless lives for the better.

Tribal Uplift

Literacy and culture have been promoted amongst Adivasis, Harijans, Vankars, Vaghris and Fishermen. Volunteers have totally liberated 35 out of 72 villages from addictions. Moral centres and educational programmes have been set up at Silvassa, Raandhaa, Samarvarni, Karchelia, Donja, Ghoghamba, Dadra Nagar Haveli, Panch Mahal, Pavi Jetpur and Adivasi villages on Narmada's banks. Adivasi Complexes in Ukai and Surat have been established.

Sadhus and Society

More than 625 young, educated and committed sadhus form the backbone of the activities. They are strict celibates who observe lifetime vows of: Nishkam (non-lust), Nirlobh (non-greed), Nisneh (non-attachment), Niswad (non-taste) and Nirman (non-ego). Apart from daily devotion and meditation, they are steeped in spiritual and social work.

Festivals of Life

Large international festivals, in places a varied as England, America, Africa and India, have reached millions. Through beauty, traditions and expositions the real values of life are relayed.