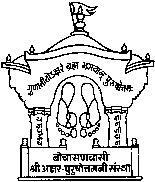 The creator and organisers of the Shree Swaminarayan Mandir, Rajkot are the Bochasanwasi Shri Akshar Purushottam Swaminarayan Sanstha, a non-profit socio-religious organisation with worldwide centres. In AD 1907, Brahmaswarup Shastriji Maharaj had founded this Organisation keeping in view the Vedic ideals propounded by Lord Swaminarayan.
The Organisation does not aim at the skies, but at the Earth, at the individuals, so that they find comfort, peace, and happiness in life.
The Organisation which began its activities with only five sadhus has now grown to a body of 625 educated young sadhus, 450 temples, 2300 child-forums, 1700 youth-forums, 700 women-forums, and 1100 satsang-centres.
The 625 sadhus and 30,000 volunteers of the Organisation are wedded to creative and constructive activities. Whether the activities are concerned with education or health, flood-relief or famine-relief, adivasi-uplift or ecology, the Organisation has always served the society skillfully and selflessly.
And through International Festivals it has brought about a moral and spiritual awareness among people on a massive scale. In 1981, in Ahmedabad, 3.5 million; in 1985, in London, 1 million, and in Ahmedabad, 8 million people; in 1989, in Vallabh Vidyanagar, 15,000 children, and in 1990, 21,000 youths; and in 1991, in the U.S.A., 1 million people, and in 1995, 7.8 million in Bombay participated in such festivals.
Today, under the able leadership of Pramukh Swami Maharaj, this ever expanding Organisation has a special place in the heart of millions.